How to get to Dubrovnik Escape Room?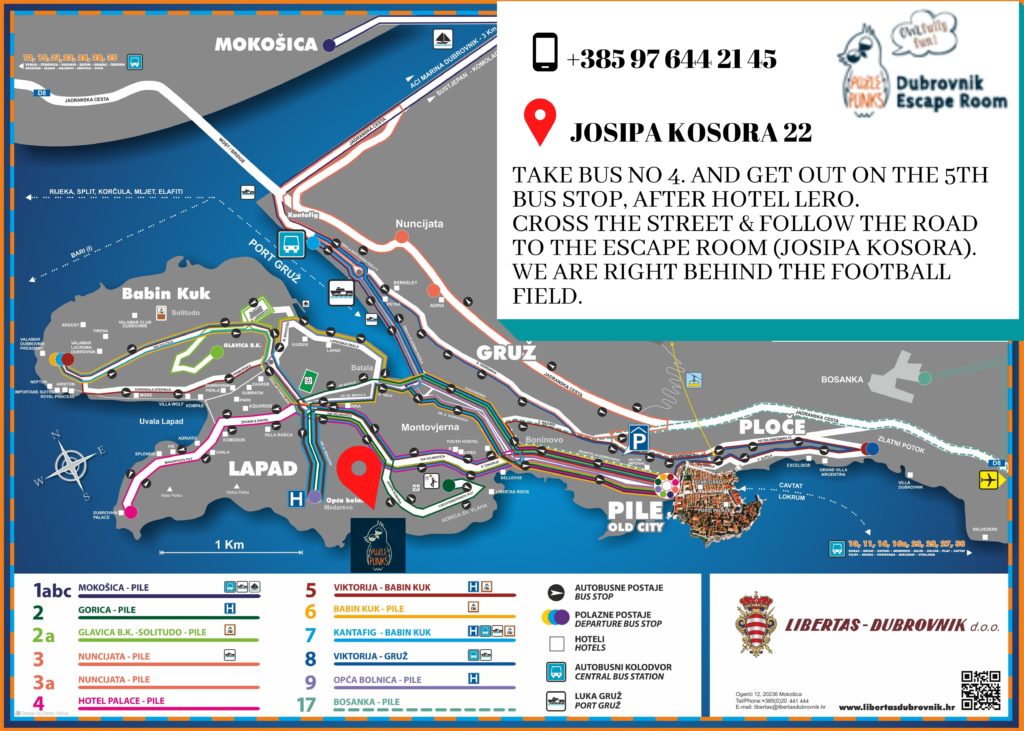 EASIEST WAY TO GET TO DUBROVNIK ESCAPE ROOM
The easiest way to get to Dubrovnik Escape Room is by taxi . We recommend Uber taxi as it is much cheaper than the regular taxi. The fare from the Old Town to Dubrovnik escape room should be around 30-40 HRK (UBER). That is about the same amount you would pay for a bus ticket (15 kn / person). Regular taxi can be significantly more expensive, we know guests paid up to 140 kn from the Old Town (during peak season and due to lots of crowds on the road).
GET TO DUBROVNIK ESCAPE ROOM BY BUS
The public transport system in Dubrovnik is very good, with lots of buses connecting all neighbourhoods of the city. To get to Dubrovnik escape room with the bus is pretty simple: take bus number 2, 2A, 4, 5 or 7 from the closest station, and ask the driver (or any of the locals, they are always kind and helpful) for Josipa Kosora street (or Cokolino area, it's almost the same). Bus number 2 will stop directly at Josipa Kosora street, while buses 2A, 4, & 7 will stop on Iva Vojnovica street – if you are coming from Old Town, you should exit at the 5th bus stop from Pile (1st bus stop after Hotel Lero).
Once you get out from the bus, just follow the banners we put for directions. We are located next door to Pemo store, just behind the football field. You will be at our location in less than 3 minutes.
GOOD TO KNOW: One good thing to keep in mind is that the bus passes are available for 1 hour, so you can change as many buses within that time frame. Also, buying the bus pass from Tisak Kiosks is cheaper (12 kuna) than buying it from the driver (15 kn).
Below you can find a detailed map of the bus lines that run in Dubrovnik. Follow the owl with our logo marker to see where you have to get to. (Click the map to open in full size).
Newest schedule of the Dubrovnik bus lines can be found on each of the bus stops, and you can also check online here.
IMPORTANT : Please BOOK TO PLAY before you arrive at out location. We are not always at the escape room, only when we have reservations.